I just read that the most expensive coffee in the world is currently something called Black Ivory Coffee and the current approximate price is $50 USD for one cup.
I did a little research because I thought it must be a joke. The joke being that this coffee is produced from elephant dung. WHAT!! and gross!
What I found is that this is actually true. Again: WHAT!! and gross!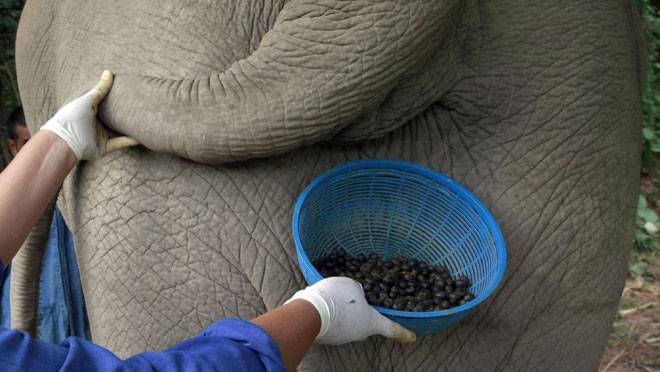 They feed elephants coffee beans (raw and still inside the shell) after picking the "best Thai Arabica beans" from an altitude of about 1,500 meters.
Once deposited [last time: WHAT!! and gross!] by the elephants, the individual beans are hand-picked out of the elephant dung by the some people called Mahouts. Then they sun-dry and roast the beans.
The website doesn't say if the elephant poo is removed from the bean before turning it into a cup o' joe or if you are just drinking a very expensive cup of crap infused coffee.
Supposedly the reasoning behind drinking abc (already been chewed) coffee is that elephant stomachs have a great fermenting process that they say reduces the bitterness.
So, if you are interested in having a cup of roasted elephant poo, there are currently only 14 places in the world you can find it.
Personally, I think I'll stick with my organic, shade grown and fair trade coffee from Costco.
Have fun, be safe and don't do anything you can't tell your mother about,
Jess